Coloring Book
2020.05.19
Coloring Book – Your Chance to Become a Coloring Pro
If your kid loves doing artwork and you want him to express his creativity and brush up on his coloring skills then you should definitely give this coloring book app a try. Coloring Book is a nice app which allows you to unleash your kid's creativity and color the drawings provided using the colors of their choice. The simple user interface and intuitive layout and design of this app make using it an easier proposition for children of all ages. There is a wide variety of coloring pages available in this coloring app which provides the kids with different challenges. They can choose to color the drawings any way they want using colors of various shades.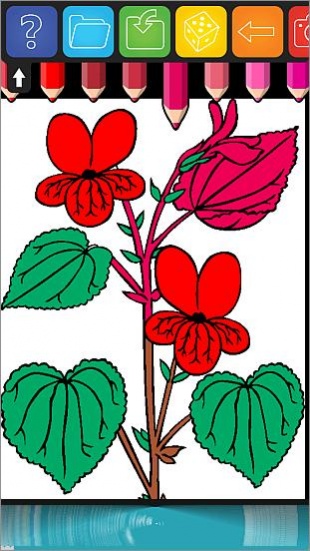 Coloring Book offers in excess of 600 drawing pages to you. These pages are classified into various categories. There are three difficulty levels available which are easy, medium and hard. Each difficulty mode is further divided into a number of other categories ranging from Halloween and Christmas to Nature, People, and Animals. You can select any of these categories and choose the drawing pages available in them to start coloring. The easy mode contains simple drawings which are easier to color. In the medium and hard modes, you will be presented with complex drawings with finer details which are a little hard to complete. It is best to let the kids start with the drawings in the easy mode first and then progress them to the medium and hard modes later on.
When you have selected a drawing to color, you will find the palette of colors on the top-half of the screen. The colors are shaped in the form of color pencils and you can choose the one that you want to color with simply by clicking on its icon. There is a set of commonly used colors available in a single group. However, as you swipe towards the right of the screen, you will see various shades of each color grouped together. When coloring drawings in the easy difficulty mode, you won't have need of the color shades and can complete the coloring using the basic colors available in the first group. The drawings of the medium and hard difficulty levels would require the use of the color shades.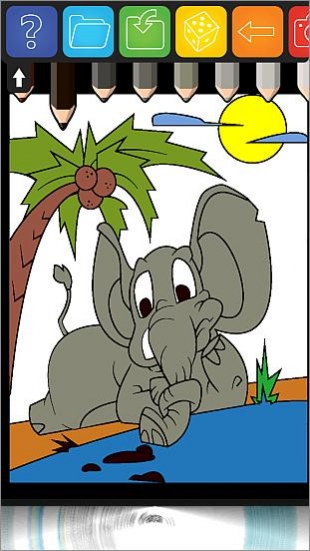 You simply have to tap on a part of the drawing to fill it with your chosen color. If you want to revert the coloring you have done, you can simply click the undo button to clear it off. For coloring the finer details of a drawing, you will have to use the zoom feature. It will allow you to enlarge a small area of the drawing and fill it with the color you want. Once you have finished coloring, you can save it to your artworks folders by clicking the camera button located on top of the screen. Coloring Books also offers you the chance to import artworks of your own and color them using the various color shades on offer.
Features
Simple user interface
Intuitive design and layout
Three difficulty modes
Lots of categories of drawings available for each difficulty mode
Each category contains a variety of images
Various shades of color available
Zoom option for coloring finer details
Undo function for reverting the changes
Option for uploading your own artwork
Save your colored drawings on your phone
Conclusion
Coloring Book is an app which is directed towards both children and adults who have a keen interest in art and coloring. It provides them a variety of different artworks that they can color just the way they want showcasing their creativity and aesthetic sense. It is certainly an app worth having on your phone especially if you want to keep your kids busy on long trips.
---
Add a review
Tell us your experience with
Coloring Book
2020.05.19
RELATED PROGRAMS
Our Recommendations
---
---
---
---